Women's Program
Join the Women's Program, a completely online program that you can do from anywhere in the world. All you need is gym access and an app. You'll open your app and have access to your workout for the day, watch the exercises, enter the weights you used and select completed once you've done your set. Then submit your workout at the end of your gym session. Both programs include personalized macro plans as well.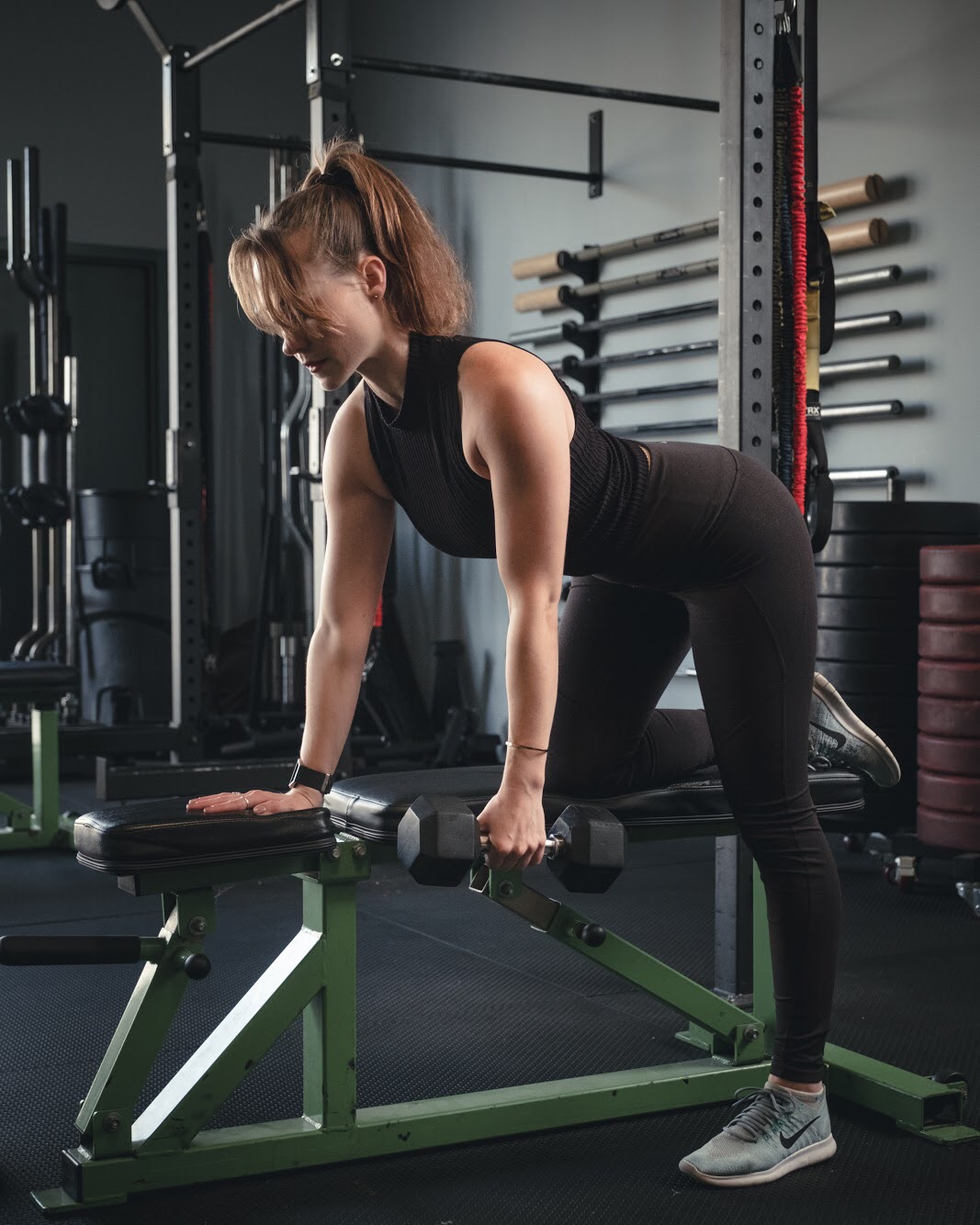 This program is designed for women looking to increase strength and simultaneously lose fat. It can be done in a cohort style by joining in as other women do the program at the same time as you, or can be done solo at your own convenience. It requires gym access, willingness to workout 4 days per week for 4 weeks, and the desire to gain strength and reduce fat. Some gym experience is advised. Many women find this program helpful as they build confidence in the gym because it gives them guidance for a whole month. To read more about real women's results and testimonials scroll down or visit IG @sierratraining
4 gym workouts per week,
Personalized macros,
Weekly nutrition tasks,
Access to Facebook group (encouragement, support and motivation),
Access to nutrition trackers,
Video demos of each exercise,
Workout tracker,
Measurement tracker,
Does not expire!
This program is 6 week advanced gym based strength training program for women looking to increase strength, build muscle and lose fat. It includes 2 days per week of yoga and cardio of choice and 3 days per week of gym workouts. Must have at least 1 year of gym experience to participate!
5 assigned workouts per week for 6 weeks
Personalized macros
Access to nutrition tracking
Measurement tracker
Workout tracker
Video demos of each exercise
Access to Facebook group
Does not expire!
I feel a lot stronger and more energetic and motivated. The Women's Program helped me have a positive attitude because it jump started me to work hard. I definitely feel more confident about my body and feel more comfortable in the clothes i wear. I loved having something to do every week and knowing that it was working all my muscles.
-India K
This definitely upped my game in terms of working out 4x per week. I liked that I felt more accountable to someone or this group and tried harder because of it. I love that I'm feeling stronger and have more energy! The planned workouts with videos to make sure you knew you were doing it right were great! I loved the measurement tracking and progress photo ability. I also loved the social media component on Facebook and communication with Sierra. Fun way to lose weight and connect with others through Instagram. The workouts are best component.
-Tanya F
I noticed that as I continue to go to the gym, I felt more concentrated outside of it, stronger body throughout, and it strengthened my relationships especially with the ladies I did the workouts with. My self image increased and I carried more confidence throughout my days. Being a complete beginner in the gym at the start, I found it challenging but manageable to get started. I would say any beginners who want to get into a routined, challenging program, this is awesome. It consistently challenges you as the reps increase each week, and it involves learning and training on new machinery for beginners, but through those requirements, you are left feeling very competent and like you "belong" in the gym! I am very grateful to have been a participant, and I plan to continue 4 days a week for as long as I can! Thank you for creating this program for women like me who seek to gain strength, and subsequently reap far more benefits from it as well!
-Bridget H.
I think this program is good for anyone. My friends who tried doing the workouts with us for that day really struggled and they go to the gym regularly. The routines make you workout muscles you didn't know you had. It's like having a coach without having a coach there. I always said. I don't want to go to the gym, I can workout outside. I learned that I can go to the gym and workout there. I will say it helped that I went with another girl who was doing this app and that helped a lot.
-Jessica R.
I feel more in tune with my body. I have worked out an average of 4x/week for the past 5 weeks now. In the past I would have said that I hated the gym, but I actually look forward to and enjoy my workouts. I feel stronger and more athletic again, and I've found that I really enjoy weightlifting. I'm seeing physical changes in my body already, which is exciting, and I feel like I have the mental strength to continue in this lifestyle. I want to look good and feel good, and I know how to get there, so I'm going to do it. I think this program is fantastic for somebody like me who was once active and healthy, or maybe never was, and needs a life jumpstart/reset to establish healthy relationships with exercise, food, and their body.I've told multiple people about it and I always start with "It's great!" I say that it's like having a personal trainer who sets up workouts for you 4x/week, and then when you're at the gym, you just got through the workouts and check things off as you go. I say it's nice because the number of reps/sets is set up for you already, so it takes the guesswork out of what/how much you should be doing. It was also nice to know that what I was doing was going to give me results. I have a friend who just started working out by herself and she said "I hope I'm doing enough to see results." I never had that worry. I felt like if I put in the effort and did the whole program, I would see results, and I did!
-Lindsay K.
I really liked the workouts! I felt myself getting stronger each week and liked the continuity of the individual exercises being the same each week. The videos attached to the exercises were super convenient and it was fun to check off when you finished something. What I learned? I can do it. Also I can actually run, for more than a mile, which is pretty freaking awesome. I am also so much more capable of becoming a "gym person" who works out for 4 days and actually enjoys it.
Portia E.
I've been struggling to get back to going to the gym as I've been feeling lost whenever I go and unsure of what to do. I gained confidence in working out and I feel stronger and happier after finishing the Women's Program. It is a great way to change up your workout routine away from just cardio and yoga. It is a simple way to really feel yourself gain strength without requiring too much equipment or too much time. The workouts were easy to follow and the exercises were pretty basic with video instructions to help out but I really felt myself get stronger from week to week and even day to day.I liked the Facebook portion. Gave me motivation to know I was doing it with others and wanted everyone to achieve their fitness goals. It was also good to see questions people had.
-Shanni A.
I loved that the cardio was consistent and effective but minimal and that each week there were progressively more reps for the weight exercises. It made the program very manageable!
Erica T.
I definitely had a lot more energy and better abs, which helps me feel better about my body image. My emotions were much more level and I felt like I really starting craving a work out.
-Hannah W.
It feels great to be supported by a personal trainer who I can message with any question, and by a cohort of women who have my back! I loved seeing my progress each week with the workouts. I could see a huge difference from week one to week two! Finally doing a real push-up felt like a HUGE personal win. The nutritional program felt engaging and not stressful. My confidence grew so much by week two. Seeing how I improved week to week kept me motivated, even if the scale didn't change.
Lily D.
Sierra was so great and checked in. She made individual adjustments to the exercises and helped me feel motivated to exercise. I would say that the exercises are great, challenging but can be adjusted to suit my beginner level. I think Sierra was really great about making sure that things were on track. I didn't know much about the gym or how to use the equipment, was kind of blindly doing exercises hoping to see some result. It was really nice to have someone suggest different reps, show how to use the machines, etc.
-Rosie S.